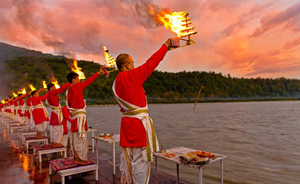 How did I quit the rituals or How did they quit me
How did I quit the rituals or how did they quit me
I often wondered; I could have been born in some other part of the world, why in India? We have rituals for everything from birth to death. Also when we buy a new scooter, car or home. We have a separate place to worship in every home called Mandir. It is lighted with a Diya twice a day with prayers. As a child I too joined it without understanding much.
I had been sent to a small ashram for play school. Hawan and chanting of Mantras was its daily ritual. As a child it was easy to memorize Vedic Sanskrit shlokas. We have religious celebrations at home where whole family sits together and praises the God in form of Aarti. Smartly ask almost everything from God – material success, welfare of children and family, good health, wisdom and also peace at heart. But I eagerly waited to get it finished. There was always some Prasad (sweets) after the rituals. My whole attention was on the sweets all the time. It was difficult for me to control my temptation for long. Most of the time I quietly stole some Prasad, which I enjoyed even more.
We often visited temples during holidays and for vacations, we visited places like Rishikesh, Vrindawan, Haridwar and Vaishnodevi etc. I enjoyed all these places without any reason. Although it was very tiring and painful, yet the experience was unforgettable. Bathing, praying and big ceremonies at Ganga, I watched everything quietly and the experience always remained with me.
I was really bad in studies till class eight. My grandfather wanted me to pay attention to studies but I had no interest in it. I kept looking out of the window of my class room, thinking of lunch break, when papa would bring some tasty snacks. Afterwards I wanted the school to get over so I could go home and play with my brothers and sisters. Every year I had to reappear in exams and was then promoted on request. Everyone in my family was very unhappy with my academic performance, but soon it became a habit for me and for others too . After every annual result, I watched my brothers and sister getting new books, bag and other accessories. Nothing much affected me because soon all came back to normal. Friends and classmate of my age used to read big books and novels but the sight of it made me dizzy.
My father had a bookshop. He told me to spend some time there to learn shop work. I used to go there absentmindedly. I did not know what to do? I observed the world playing smart with the words but that never fascinated me. I don't know how it happened but I was pulled to a quiet corner of the shop where I found the most amazing Indian mythological comic book series "Amar Chirtra Katha". I was fascinated, rather intoxicated by it. They were in English and I could not read them yet I loved to watch them with great interest. Gradually it pushed me to learn and read English for better understanding. Later I was so happy when I discovered that my interpretation by looking at the pictures were right. Also I discovered the hidden knowledge in them, a deep insight to human evolution. In senior school, in Hindi literature we had poems by Kabir, Tulsidas and many other Indian spiritual poets. I remember I used to only interpret verses of those poems in exams. It was very natural to me, no pre learning, not even referring to any notes. I could write many pages. I don't know what the teacher thought about it but she promoted me somehow.
To grow up in such an environment might look irrelevant but something was growing inside me. May be love and faith. Yes, of course it was "that" in a silent and innocent mind of a child.
Once my sister asked me when I was 25 years old "Why do you want to get married"? I replied, "so that I can leave my job and read all the scriptures". I wanted to know what is there in Vedas and Upanishads.
Firstly I accepted what was easily available in the family tradition. I started going to ISKCON as my aunt was totally involved in it. It was all about its rituals and food for me. Also I performed dance many times at the temple auditorium. Every time I was told to play Krishna which I did not like it because Radha's costume was much more beautiful. The Bhajans were based on Gopi's begging to Krishna for the love. Seeing their intense desires and pure heart, Krishna decides to incarnate himself in many forms to satisfy their longing. One day, while dancing I experienced the extreme joy. I thought it was a matter of the chance but each time during the performance as Krishna, I experienced the same joy, which is not possible to explain in words. Who says I don't want to be Krishna, not me!.
I loved the way my aunt looked at the deity in the temple. Something touched me. I got my own Krishna deity in my room, whom I worshiped like my own child. I used to massage him, gave him a bath every day, change his clothes, serve him, make small woolen sweater for him etc.
My faith became even stronger , when I went through my marriage process. We are three sisters and one brother, all are younger than me. Therefore Grandmother pushed me to get married much earlier, when I was just 23, but I was very confused. It was a big decision for me, for which I was not ready at all. The reasons, according to the world, to get married were very strange to me. For clothes, jewelry, shopping, entertainment etc. whereas I believed in fairy tale, love and friendship, but whom to talk to?
I felt only God could help me. So I started visiting temple every day, may be three times in a day. I heard many talks based on scriptures, at home I was chanting very much. I did not look for any company to go to the temple nor wanted to talk to anyone in temple. I was on my own. The aim was clear, I wanted guidance from god only and I was very eager.
I don't know in which silent moment it happened that I felt that God was telling me "Just follow your Grandmother, rest he will take care of it". My Grandmother was a difficult person and boss of the family. I had cat and dog relationship with her.
But that day I went to her and told her"I am ready to get married with the one you choose for me". Trust me it was not easy. I felt like I was jumping off a cliff, hoping God would catch me down there.
Here comes the first marriage proposal from someone in the temple. I saw the boy and totally disliked him but my Grandmother was eager to call him to our home with his whole family. I thought "Oh God am I going to marry this boy" but if I argued with my granny, she will surely get me married to this boy". It was very difficult for me not to react I kept quiet. The boy came with his whole family for lunch. His sister asked me many questions and I honestly replied, maybe I had nothing to lose. Next morning, for no reason at all, my Grandmother rejected that boy herself. What happened no one knows…..
Another proposal came again from the temple, my Grandmother invited them for lunch too. This time she wanted to get me married somehow. Without much enquiry about the boy, granny accepted the proposal. She arranged a small ceremony at our home to confirm the proposal. The boy came with his mother. My Grandmother gave them some cash and sweets. Everyone was happy and celebrating. I was in state of shock. The boy forgot to bring engagement ring. He got up from his seat to buy me a ring. Suddenly someone reminded him that it was a holiday and all markets were closed. It was decided for next week.
Next day that boy and I went on a date. Something was not right, I kept quiet whole of the time, and at the end of that evening I did not like the boy. But what to say to my stubborn Grandmother. I went back home, Grandmother was sitting on a sofa, waiting for me to tell that she did not like the boy and I should just forget him. I was so much relieved.
Another day, a family friend brought a proposal for his nephew. This time Grandmother fixed the meeting in a restaurant (Thank God she learnt something from the past mistakes). The boy was good looking and I liked him too. We all were very happy so far. My Grandmother fixed the second meeting at the boy's home. We all went there. Suddenly the boy's mother called up all her distant relatives to see me and my family which my Grandmother did not like at all. When we went back home, she told me to forget about this boy too.
But I liked the boy this time and I wanted to be sure about myself. After some days, I invited him to watch a dance concert with me. We watched the dance programme quietly. Towards the end of programme, I was sure that this is not the boy that I wanted to get married.
Afterwards, Granny made me look at many boys. I lost the count, most of the time she herself refused them and other times they refused me. This went on for almost 4 years. She was very surprised after all her efforts and eagerness, why was nothing working?
During this time I set up my own small computer teaching centre. Happy and satisfied with my little income. One day my brother, who was in his final year of MBBS told a senior doctor student, who has just shifted to Delhi and wanted to learn basics computers. He had referred him to me. His name was Dr.Shivanand and he approached me as a student. I found him extremely focused and sincere. He was a simple boy from south. I taught him like my other students. He hardly talked to me during these days. He did not pay the fees but instead he got small and innocent gifts for me. He was earning very little at that point of time and I did not dare to ask for the fees. One day he invited me to his collage function. There at college he proposed me for marriage. And I forwarded him to my Grandmother.
Next day they had a long conversation in a separate room. She agreed and found him the most suitable boy for me. And finally I got married to him.
After the birth of our daughter "Vrinda", many things changed. I discovered new side of myself and my husband. I had a small baby in my lap. I went through an internal and outer turmoil of my life. I asked myself, why I have no control over my life? How to manage my life and relationship in a better way? Why am I so restless and anxious? What is real confidence and how to attain it? Why had I that near death experience? (Article "save the best for last"). What is life trying to teach me?
Once again I was dependent on God only. I wanted to improve. One day, very strangely, while preparing breakfast, I switched on the T.V. It was the middle of a programme about discussion on"Gita". From the kitchen I heard the Shloka (verse) where Krishna says to Aurjun – there are 3 types of Gunas – Tamsik, Rajisik and Sativik, which I was familiar with it but suddenly Krishna continues – "There is something which is beyond of all these three Gunas and Arjuna you have to go for that only". I had never heard this before. It bothered me for many days. I decided to find it somehow.
I went through the book "Bhagvata Gita" many times, again and again, made notes, contemplated and in the middle of the day, I went to temple. This went on for one month. While reading the Gita, one day I realised that the world is just a game, and we are a very small part of it. This realisation stumped me, amused and scared me. But whom to discuss it with? People might think I am a fool or maybe I interpreted it wrong. I kept wondering inside.
One day my neighbour invited me to her home for Hawan(Indian fire ritual). The fire of the Hawan gave some stillness to my inner turmoil. I came back with intense desire to perform Hawan by myself, so why to wait for an auspicious occasion? A friend of mine lived in the same building. Her father in law was a kind man. I approached him to teach me technique of Hawan and he happily taught me, the simple way to do it with gayatri mantra. I went to the market and bought a small Hawan kund, instead of wood I used cow dung, remembering first the lord Genesha, then the Fire god, then Krishna as my guru. I started with gayatri matra. I performed Hawan everyday for 1 month. Whatever I did might have been incomplete or wrong method but it definitely was with love and with all of my heart.
I set a timetable for myself. In the morning do Hawan, read Gita and then go to the temple. I kept looking at the deity of god for an hour, which I really enjoyed. One day in the temple I felt that no one should come between us – just me and God.
One day a childhood friend of mine Vibha called me at her home for lunch. I always enjoyed talking to her father. He was very intelligent, simple and humble man. He had studied many books during his life. That day during the talk with him, I asked him "Can you suggest me one single, thin book to read. I have no interest in books except Gita."
He went inside and came with one small book which was covered with a newspaper. I received it with love.
I asked him again "Uncle, you have read hundreds of book, what is the gist of all the books."
He said "Yes, reading is very good but ultimate is to mediate and focus inside."
I came back home and read that book sincerely where Shri Ramakrishna Paramahamsa was narrating his personal experience. He used to pray and loved mother Kali. He had tremendous faith in her. But one day in mediation he slayed her head, to go beyond. He guided the devotee to – fix a particular time and place and sit for mediation every day and focus in the space between eyebrows on the forehead.
That was new word to me "Meditation". I had to follow him, something in me believed him so much. Now I introduced mediation in my daily program. The first day it was very difficult to sit with close eyes. I could not do it for 5 minutes. It was fearful. How to stay focused?
Next day, I sat again at the same time and when I opened my eyes 15 minutes were gone. I was very happy on this little achievement. The feeling was good, nothing more or less. This experience became motivation for the next day mediation. Few days later unknowingly, someone gifted me a CD with light Indian instrumental music for mediation. I played it for the next few day during the mediation and I could sit for half an hour easily. After one month I realized that the music is no longer required. I can sit in mediation without it.
One day during mediation, I felt my body is not on the ground. I am floating in the air close to the roof. I was so scared to open my eyes. I took my own time and very slowly I opened them. Thanks to God, everything was okay. Next day in mediation I experienced that my body has melted and become a thin paper. The feeling of absence of my physical body and this experience penetrated me. Whom to share it with? Am I doing anything wrong? Am I going to die?
After 6 months, I had a strange and most fearful experience. Which stayed with me all the time, during the day. I felt all my faith and belief had left me. When I closed my eyes, no God was there to call upon. There was no Krishna to whom I worshipped and loved so much. It was terrifying for me. Where is my Krishna? I could not see him in my dreams. I felt I am alone in the whole cosmos. Many times during the day, I felt I could not breathe. I cried alone. What to do? Where to go? whom should I talk to? Rest is in there in my Article "meeting the master".
During the 4 years of practising Kriya meditation, I left all the rituals or they left me. I saw that people around me doing ritual were stubborn and rigid rather than soft, kind and loving. They chanted the name but not with awareness. Their attention is on phone, whatsapp messages and more on others. It is more like a social gathering and a display of wealth in the name of ritual. Those who could spend more money on flower decoration and food offering(Prasad) are given priority and respect in the temple and society. Are we fooling ourselves or God?
But now after 4 years I have started loving to perform rituals again. I go to a particular temple, which is comparatively silent. I do Hawan and worship deity, in my own way. Now I know what and why I am doing it. And I thoroughly enjoy it. And those who are a part of my ritual, they also feel peace and joy.
Where have you gone?
Where have you gone, where have you gone?
When I close my eyes, there is no vision, no pillar to hold on,
I am so frightful, show me some hope that make me keep going on,
What about the days I spend in prayers and chanting in the temple,
It all evaporated from me somehow,
I have no idea how and when it happened,
Have I done anything wrong?
Where have you gone, where have you gone.
No one is inside me right now, no God only one big empty space,
In which I am standing all alone,
Where the creator of world has gone?
Who will now save me from all the turmoil and storms?
Tell me? Please respond. Is someone up there, whom should I call upon?
Where have you gone, where have you gone.
All my belief and faith have left me,
As if they never been existed before,
It is so very fearful to be totally free and alone,
I cry like child as new baby within me has just born,
I need your guidance my love, to stay and to carry on
Where have you gone, where have you gone?